On Day 3, I started the day at the Marché de la Bastille, the largest open air market in Paris located on Richard Lenoir Boulevard very near my Citadines hotel. They had breads, pastries, seafood, cheese, gadgets, crepes, souvenirs and much more, but most importantly they had local and exotic honey to bring back to Canada.

Next up was a walk through the Marais district from Rue Antoine to Hôtel de Sully (it's not that type of hotel, it's a palace), near the Place des Vosges. Built from 1625 near Place Royale (today Place des Vosges), the Hôtel was commissioned by King Henry IV of France and overseen by Maximilien de Béthune, Duke of Sully (1559-1641). The Duke bought the residence in 1634. It stayed in the Sully family until the mid-18th century, and now it has been the Centre des Monuments Nationaux since 1967. The Place des Vosges was built by Henry IV, extending the work from 1605 to 1612, and is the oldest square in Paris.

The walk went into the Marais district by Musée Carnavalet, a museum with historical art and objects that is free and well worth seeing, through the Jewish quarter, and ending at the Centre Pompidou, a large museum of modern art I have seen previously. Then it was off to see the final stage of the Tour de France, walking along the Seine River to get there. The Tour is a lot of standing around waiting for a few minutes of action. Although standing along the Quai Tuileries, I was able to see the cyclists loop five times around the Jardin Tuileries before the riders go up the Champs d'Elysées, and there was a parade of cars and floats prior of the cyclists arrival, which nicely used up some of the waiting time.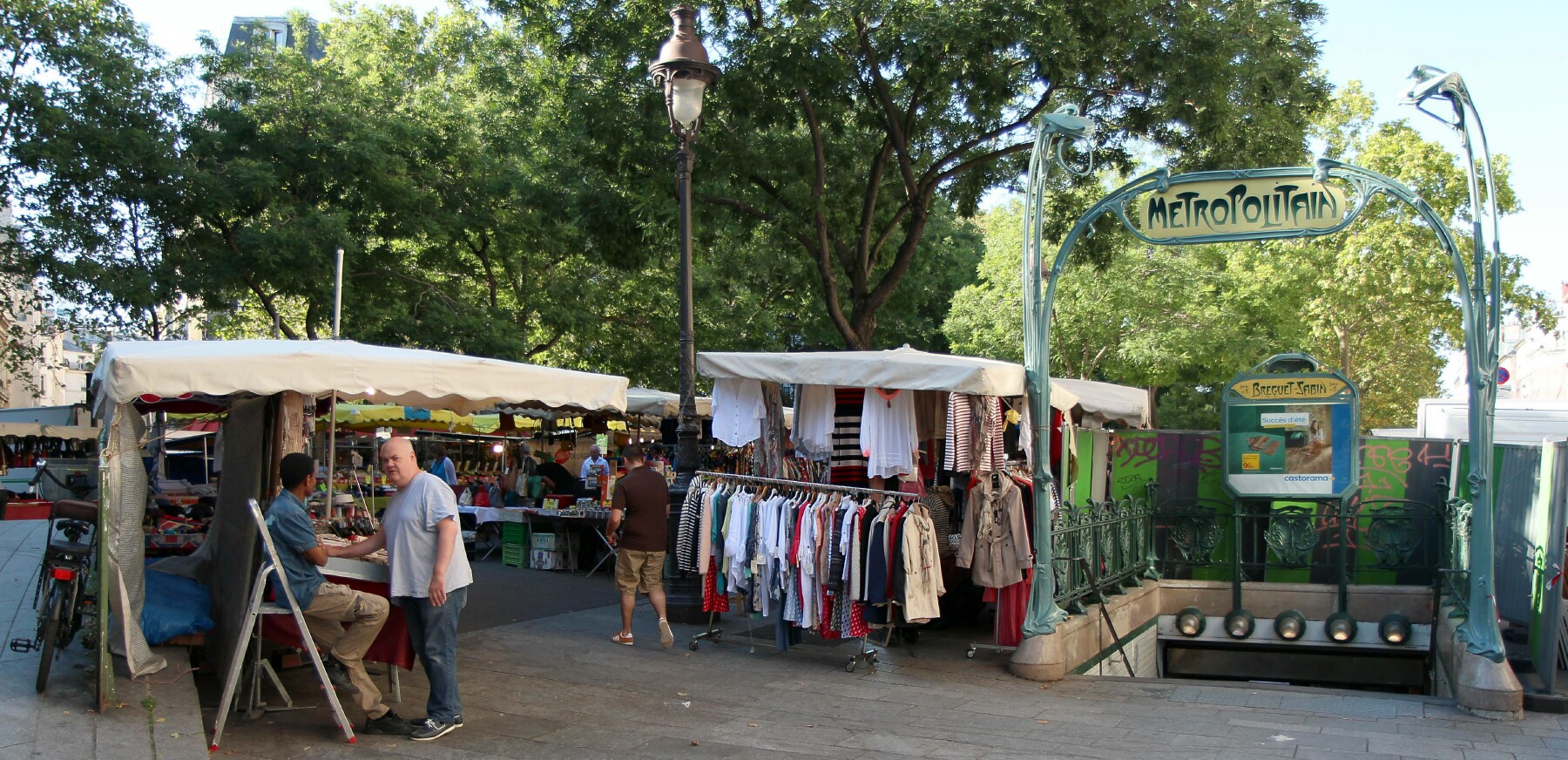 Above: Walking through the Marché de la Bastille (Bastille Market).

Below: Pictures 1 to 12 show a fish shops, bread shops, fresh fruits, clothing, pastry shops and other shops in the sprawling Marché de la Bastille.