On Day 8, after buying my timed ticket to the huge, still-being-built Basílica i Temple Expiatori de la Sagrada Família in the morning, I arrived back at the Basilica at 2:45 p.m. to enter. The Cathedral is a unique interpretation of Gothic architecture by Catalan architect Antoni Gaudi. It is a UNESCO World Heritage Site, and in November 2010 Pope Benedict XVI consecrated and proclaimed it a minor basilica. There's nothing minor about it.

onstruction of Sagrada Família had commenced in 1882 and Gaudí became involved in 1883, taking over the project and transforming it with his architectural and engineering style, combining Gothic and curvilinear "modernisme" design in the spirit of Art Nouveau. It is still being constructed, and is scheduled for completion in 2026, the 100th anniversary of the death of Gaudi.

On 7 June 1926, Gaudí was taking his daily walk to the Sant Felip Neri church for his usual prayer and confession. While walking along the Gran Via de les Corts Catalanes, he was struck by a passing tram and lost consciousness. Assumed to be a beggar because of his lack of identity documents and shabby clothing, the unconscious Gaudí did not receive immediate aid. Eventually a police officer transported him in a taxi to the Santa Creu Hospital, where he received rudimentary care. By the time that the chaplain of the Sagrada Família recognised him on the following day, Gaudí's condition had deteriorated too severely to benefit from additional treatment. Gaudí died on 10 June 1926 at the age of 73 and was buried two days later. A large crowd gathered to bid farewell to him in the chapel of Our Lady of Mount Carmel in the crypt of the Sagrada Família. (Thanks to Wikipedia for the description).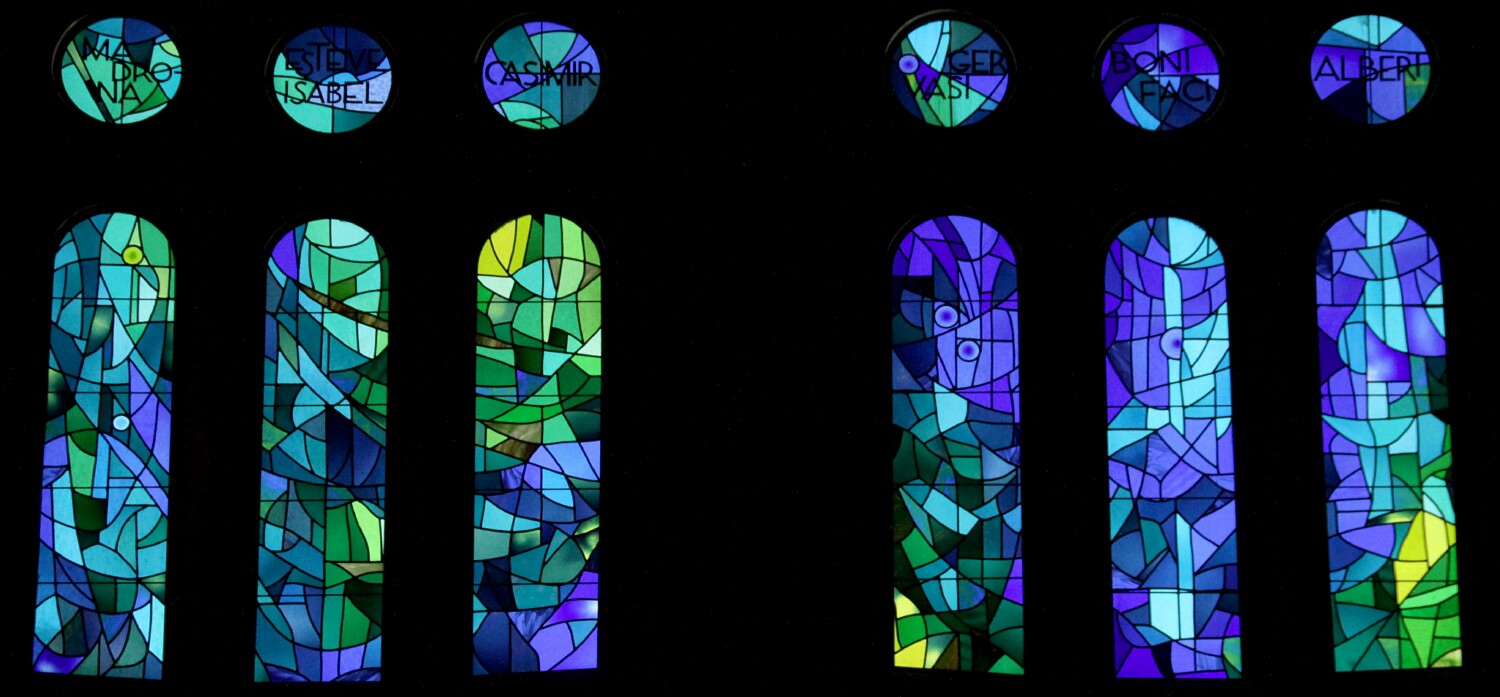 Above: Stained glass window detail on the eastern blue/green window side of the Basílica i Temple Expiatori de la Sagrada Família.

Below: Pictures 1 and 2 are from the eastern face of Sagrada Família.
Pictures 3 to 7 are views of sculptures on the Nativity Facade at the main eastern entrance to the Basilica.
Picture 8 is the flowered detail of the door to the eastern entrance.
Pictures 9 and 10 show the alter area and part of the roof of Sagrada Família.
Pictures 11 to 13 is a stark sculpture at the back of the Basilica, very much like that at the entrance to the Santa Maria de Montserrat Abbey.